WHALEFIN4-40mm LIQUID SINK
90.00 USD
For More Details
WHALEFIN4-40mm LIQUID SINK

Product Description
Feature: WHALEFIN4-40mm LIQUID SINK

All Aluminum construction
½" ID 5/8" OD barbed fittings for both in port & out port.
Mate to a ½" ID silicon tube for best results with 3/16" wall thickness.(recommended)
Low flow low pressure drop design.
Flow rates 1.5 to 2 liters  per minute with slight back pressure
Optimal flow rate is 1.8 liters per minute.
All flow is in parallel NO serial flow.
TRIPLE DECKER DESIGN BELOW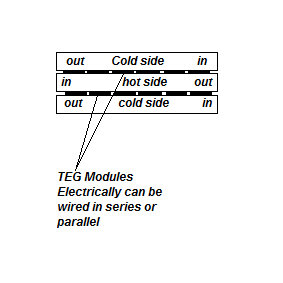 Populated with 4 pieces of 40 x 40mm recommended modules or 8 pieces Triple Decker design:
Any of the below Part numbers can be used:
TEG1-12610-5.1    TEG1-4199-5.3    TEG1-12610-4.3    TEG1-07025HT-SS  TEG1B-12610-5.1
Special order:  TEG1-PB-07010-6.0